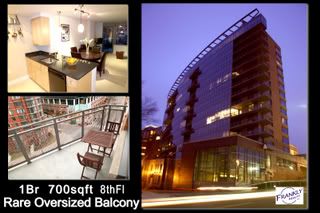 (Bias alert: I live in and own a unit at
1021 in Clarendon,
or see blog
post
& video and I love it.)

But the Odyssey Rocks.
Construction Material
I'm not a builder, but since 1021 was built initially as a rental
apartment, Odyssey was built more solidly. Also the upgrades are all a level nicer from flooring to appliances.
Green Building
I don't know if the building has an official "Green" status, but the sellers we have helped have shown us their utility bills and they were as low as $35 a month total. About ½ of 1021. Sorry if this post doesn't add new information. I'm just telling you what I know and not Bsing what I don't.
The View
If you think 1021 has a great view, the Odyssey's roof top
will blow your mind.
Couple that with an amazing rooftop party room (1021 had one, but it got sold off as a unit) and rooftop gym and it puts 1021 to shame. (no hot tub in the Odyssey though)

Location
This is where 1021 skyrockets back on top. 1021 is located in the more expensive Clarendon vs Courthouse. It is just 2 blocks from wholefoods, shops, restaurants, and night life. Meanwhile people that I know in Courthouse (1 metro to stop away) head to Clarendon 80% of the time. But not so fast, the nextdoor Dr Dremos and Taco Bell are being replaced with a retail area similar to Clarendon.

Metro
They are both about the same distance to their respective metro, with courthouse being one stop closer to DC, but also one stop more full of people.
The best thing to do when in these buildings
is to talk to the neighbors.
Recently I was working with a client and my 1021 bias was apparent so I thought I'd strike up a conversation with a resident.

"Excuse me, we are considering the Odyssey Condominiums and 1021 Condos. When you bought did you look at both?"
He went off on 1021 and how much he loved the Odyssey. On top of that, the 2 br run about
$30-40K less
for a similar sized 2 bedroom on a similar floor level. For him it was a no brainer, The Odyssey won him over.

When showing places I try to keep my opinions to myself.
It doesn't matter if I like brown or rooms that can hold a projection TV. Or a condo that is 20% larger. Who am I to say how much room you need to live or how much you might not mind walking a few extra blocks.
Bottom line is the Odyssey is worth looking at. Here is a link to
Odyssey Condos
for sale today. Here are 40 photos from
3 units
we sold here.
Do watch out since some units
are wildly overpriced there
.
As in over $100,000 overpriced
.
Also email me if you want to see a spreadsheet that my agent Megan (our agent) did. She analyzed 30 past sales and it runs a ratio of the average profit and loss by the initial purchases (don't just go by the tax records, the seller subsidy matters!).
Written by Frank Borges LL0SA- Broker FranklyRealty.com